Marchuk Jurors: "We Thought Bursor Was An Incredible Attorney"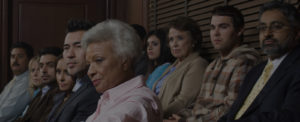 Legal news site AboveTheLaw.com scored the first interview with a juror from the Marchuk trial. On Marchuk's claim that Mr. Monteverde raped her in Faruqi's offices after the firm's 2011 holiday party, the juror stated:
"We don't believe she was raped. She willingly went up there. She said that once she went into his office, he decided to push her or throw her to the ground — but that didn't make sense to us, because she went up to the office willingly. She got caught up in inconsistencies, and her story was not believable."
The jury also gave high marks to Scott A. Bursor, lead trial counsel for the defendants:
"I thought the defense lawyer was more effective than her lawyer. We all agreed about that. We thought Bursor was an incredible attorney. We joked that if we have a legal issue tomorrow, is it okay to ask for his business card?"
The original article, entitled Alexandra Marchuk v. Faruqi & Faruqi: A Juror Speaks, is available here.