Payments Sent To Class Members For Haier Freezer Settlement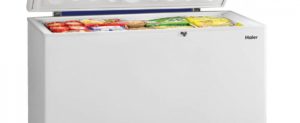 On February 28, 2014, checks were mailed to class members who participated in the Haier Freezer Consumer Litigation settlement. Each class member who purchased the Haier HNCM070E chest freezer received up to $325.80 under the terms of the settlement.
Bursor & Fisher, P.A. filed the case in June 2011 and alleged that Haier had misrepresented the energy consumption of its HNCM070E freezer on the ENERGYGUIDE labels attached to the freezer. Judge Edward J. Davila of the United States District Court for the Northern District of California approved the settlement on October 25, 2013.
"We are very pleased that the distribution to the class has begun and that class members are receiving the money they are entitled to," said Bursor & Fisher, P.A. partner L. Timothy Fisher. "This settlement was the result of more than two years of hard work, and we are happy that each class member is receiving a significant amount of money.