Privacy Case Against Hearst Moves Forward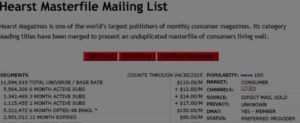 On June 17, 2016, Judge Analisa Torres of the United States District Court for the Southern District of New York denied Hearst's motion to dismiss a class action lawsuit alleging that Hearst violated the Michigan Preservation of Personal Privacy Act by selling its subscribers' personal information without their consent.
In her ruling denying Hearst's motion to dismiss in its entirety, Judge Torres stated that "[a]s alleged, Plaintiffs suffered a particularized, concrete injury-in-fact – the violation of their rights under the VRPA, along with economic harm – that was caused by Defendant and that can be remedied by court action."
"We are pleased that Judge Torres allowed the case to go forward, and we look forward to pursuing these claims on behalf of Hearst magazine subscribers," said Joseph I. Marchese, one of the firm's lawyers handling the matter.
Click here to read the court's opinion.